The year of discovery
Documentary Film
The year of discoveryThe documentary focuses on the social protests that took place in Cartagena in 1992, a struggle of the working class in the context of the implementation of industrial reconversion policies that affected thousands of workers in the Region of Murcia after the bankruptcy of companies such as Bazán, Peñarroya and Fesa-Enfersa, dedicated to shipbuilding and the chemical and metallurgical industry
Awards
Goya Best Documentary Film
Goya Best Editing: Sergio Jiménez
Forqué Best Documentary Film
Feroz Best Documentary Film
Video / Color / 200 min / 2020
---
The Future
Experimentary Film
A group of young people dance and drink in a house. The atmosphere is festive and joyful. The socialist victory in the 1982 general elections seems recent. The night is filled with euphoria and celebration. The coup attempt of 1981 seems to be quite far away. We could say that in Spain, in 1982, everything was future. However, the future is also looking closer at enormous speed, like a black hole that devours everything in its path.
Awards
Special Jury´s Mention. International Competition. BAFICI 2014.
Best Film. International Competition. Festival Invierno Uruguay. 2014.
Best First Film. International Competition. Lima Independiente 2014.
Special Jury´s Mention. IBAFF. (Murcia, Spain). 2014.
Underground Spirit Award. European Film Festival Paliç. 2015.
Nominated to Best Art Direction and Best Costume Design. Fenix Prizes 2015.
16 mm / Color / 67 min / 2013
---
Big Fountain
Installation
Record of olive oil production in the community of Subbética in Córdoba by traditional methods and industrial methods. The piece relates labor force, economic activity, concentration of capital, territory and landscape, establishing two temporalities that interact through the frame. Work done for the Vuelo de Hypnos program. Exhibition: Rehearsing time. Ecomuseum of the Caicena River. Almedinilla (Córdoba).
"A thing is never just an object, but a fossil in which a constellation of forces are petrified. Things are never just inert objects, passive items, or lifeless shucks, but consist of tensions, forces, hidden powers, all being constantly exchanged. While this opinion borders on magical thought, according to which things are invested with supernatural powers, it is also a classical materialist take. Because the commodity, too, is understood not as a simple object, but a condensation of social forces."

Hito Steyerl. 'A thing like you and me'
Super 8 + HD / 16:9 / BN / 15 min / 2016
---
Hundreds of doves have flown across the sky
Performance + Vídeo
On 20th April 1992, the World Expo of Seville opened. It was an emblematic event along with the Olympic Games in Barcelona, in a country, Spain, that was being presented to the international community as a successful and modern country. A future global economic power. Only six months later, a financial crisis would cause an important recession and rapid employment destruction.
That night, the news bring together all the government's efforts to provide an euphoric rhetoric which intensifies data and numbers to give the event a relevant dimension. A semantic horizon where a hopeful and excited population was reflected, sure to have left behind the underdeveloped, backward and miserable country they had belonged to. At the Expo 92 we could see "the world in its entirety, as it is today and as it will be in the future." Han surcado el cielo centenares de palomas is a stage reenactment of a news bulletin, starring Luis Tausía and Jesús Fragoso.
Han surcado el cielo centenares de palomas es una adaptación escénica de un telediario completo protagonizada por Luis Tausía y Jesús Fragoso.
Comissioned for Vanguardias Live. Filmadrid 2016.
27 min / 2016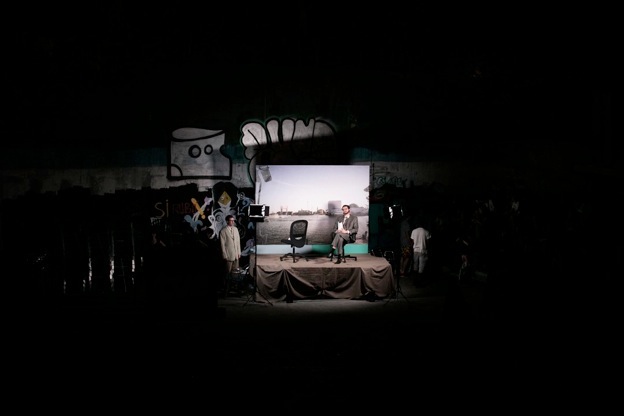 ---